[Dec 2015]Mrs. Olivia I. H. Fonnie, Liaison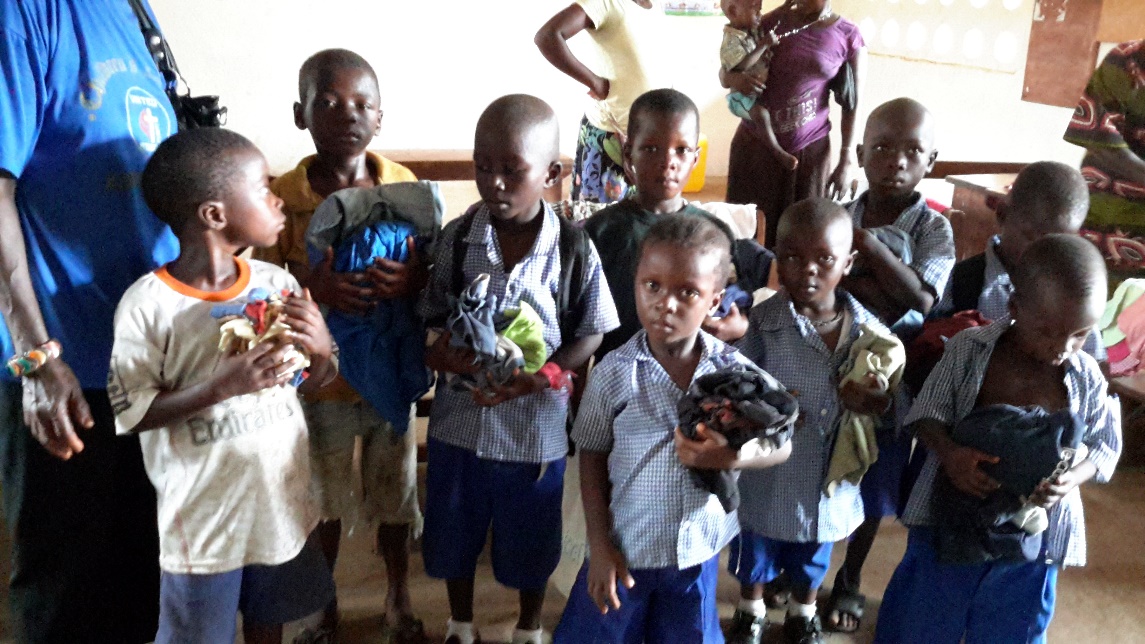 The United Methodist Church (UMC), Sierra Leone Annual Conference sees the nurturing of Children as paramount, which is why every year children come together at a specific location to meet new friends and to learn God's word together. The children come and learn more about God, Jesus and the Holy Spirit, learn from the Bible and what it means to be Christian. In practice this means, time and space are given for quiet times, prayer, Bible studies, worship, and church service. Therefore Children from all districts where the UMC operates converge to an agreed location to have a one week camp.
The department through funding from the United Methodist Women in the US implemented a project to empower communities for the increased protection of boys and girls especially the most vulnerable children in selected chiefdoms in Bo District, Southern Sierra Leone.
The department in collaboration with other departments in the conference provide for needy children across the country.
Sierra Leone happens to be one of the poorest countries in the world. 70% of its population lives below the poverty line. The gross national income of its inhabitants is more than 100 times lower than that of Italy's inhabitants. Such an economic situation has a profound effect on the practice and implementation of the International Convention of Children's Rights.
Nearly 30% of children in Sierra Leone are uneducated.
After years of civil war which led to the closing of many educational establishments, there has been some improvement in school accessibility. Even so, it remains very difficult for certain children to go to school, particularly in remote regions of the country.
In Sierra Leone, nearly one out of every two children is obliged to work in order to help support the needs of their family. Some work as part of their domestics chores; thousands of others, however, end up working under extremely dangerous conditions and sometimes die as a result. Examples include child miners and field laborers among others.
If by chance they escape, these children nevertheless bear scars and frequently suffer from physical and psychological problems.
Child abuse
Domestic violence remains a problem in Sierra Leone, particularly with regard to young girls. Many are beaten at home and sometimes raped. Abuse is rarely reported and even when it is, nothing tends to come of it.
Child abuse is not always a family problem. Young girls are known to be abused by their teachers. The physical and psychological trauma that ensues is extremely harsh. Unwanted pregnancies sometimes result, thereby posing yet another threat to the lives of these young girls.
There is an appreciable amount of street children and that results in petty crimes and for the girl child they get involved in prostitution. Even some girls living with poor parents are encouraged to go into prostitution.
Child Marriage
In Sierra Leone, the minimum age for getting married is 18. Nevertheless, nearly one out of every two girls is married before the age of 18. They are prepared early on for their future situation as wives. However, these marriages often have grave consequences for the health of these young girls who do not understand what will ultimately be demanded of them.
The departmental focus:
Developing a sound Christian education program for the children in the conference through our district Children's coordinators and Sunday school superintendents.
Developing programs that seek to address felt needs of vulnerable children in our communities and in the country as a whole, Christians and non- Christians.
Leadership training of all children's workers in the conference
The department also gave clothing to children during the Ebola crises. The week schools reopen.