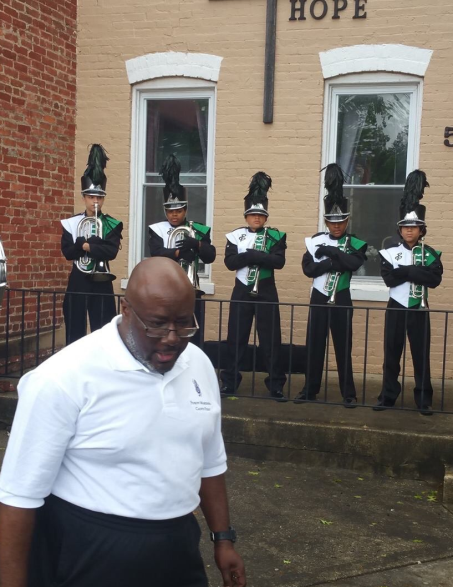 The local churches of the Seventh Episcopal District of the Christian Methodist Episcopal Church (CME) have several ministries that meet the needs of impoverished youth within their church and community. We are excited to announce the outreach projects that have taken place locally and internationally.
Mt. Pisgah CME Church, in Baltimore, MD, is feeding children during the summer months when they are out of school. The meals that Mt. Pisgah provides give families the assurance that their children will have two meals per day during the summer. In Washington, D.C., Miles Memorial CME Church's Basketball Jamboree 2017 has been a great success. The Basketball Jamboree involved children, teens, and young adults from eight CME churches in the DMV area. This community-wide effort consisted of morning instructions, providing lunches, and participating in basketball tournaments in the afternoons, followed by an award ceremony that acknowledged the winner. Miles Memorial has also reached out to children in poverty within their community through their Pumpkin Patch (October 2016) and Christmas Lights at Columbia Park (December 2016) events.
As an extension of their community outreach, New Hope CME Church partners with the Fusion Community Development Center, Inc., in Washington, DC, to offer music and art programs to youth within their community. Fusion Community Development Center, Inc. (Fusion) is a "nonprofit organization that was created to be an alternative solution for inner city youth." Their programs "consist of music and arts, life application, behavioral support, computer learning skills, mentoring and court advocacy, making Fusion uniquely situated to address the many problems facing today's inner city youth" http://www.fusioncdc.com. New Hope specifically partners with Fusion's "Fusion Cadets Drum and Bugle Corps" program, which provides musical education for inner city youth. This program currently has 14-15 youth that participate in local community events and parades in the Washington Metropolitan Area. Fusion is a 501 (c) 3 organization that operates by charitable contributions and fundraisers.
In addition, on November 7-14, 2016, 11 volunteers from several churches in the Seventh Episcopal District collaborated in their outreach to impoverished children at a GoHaiti compound in Tabarre (Port-Au-Prince), Haiti. This mission team consisted of members from CME churches in Washington, DC, Hartford, CT, and Columbus, OH areas. During this short-term mission trip, volunteers served at GoHaiti (Generations of Hope, Haiti), a "non-profit organization committed to reaching the lost and poor of Haiti at any cost." GoHaiti's vision is to "empower and impact Haitian Society's current and future generations." They also seek "to achieve economic self-sufficiency in the areas of health care, education, and spiritual guidance by caring for orphaned and abandoned children" (http://www.go-haiti.org).
In partnership with GoHaiti, CME volunteers gave donations, provided support to ensure residents' access to food, and donated supplies for medical care & hygiene.
Donations
Prior to traveling to Haiti, eight (8) large boxes were shipped to Miami for the 'C' container, which will be delivered to Haiti for distribution amongst those devastated most by Hurricane Matthew. These boxes contained clothing, shoes and medicines.
Five (5) mattresses were purchased for children at GoHaiti. One desk, chair, and four-drawer file cabinet were purchased for the office at the GoHaiti compound.
Thirty (30) pillowcase dresses, made by the Washington, DC Missionary Society, were given to girls at a 7th Day Advent Church orphanage and many more to the children at GoHaiti.
The Seventh District raised $6,000 to assist in completing the purchase of a 13 passenger van (total cost $60,000), completing the construction of the protective wall that surrounds the orphanage, and paying a portion of the staff's salaries, who had not been paid in 4 months.
Security and Access to Food
The last part of the security wall was completed and the GoHaiti compound is now completely secured! This new section of the wall is about 8 feet tall and 200 feet long. Finishing this last portion of the wall was very important, because it will secure the children and staff at GoHaiti. It will also keep the wild animals from getting in and eating their crops that provide food for children and help create food self-sufficiency.
A lot of vegetable and fruit seeds were donated and delivered to GoHaiti during this mission trip. Some were planted and were already starting to come up before the group departed on November 14th!
More than 700 children and adults were served a free meal during two separate events, which were held in the neighborhood where GoHaiti is located and where those most affected by Hurricane Matthew reside.
A large grill was purchased for the community in the compound, to cook food for the occasion and for their future use.

Medical and Hygiene Supplies
A plethora of medical supplies were donated and will be kept at GoHaiti to use during medical visits and for community distribution. The Seventh District donated more than 600 dental kits (toothbrushes and toothpaste) to children and adults.
Personal care and comfort items were given to the orphaned children at GoHaiti, children of the 7th Day Adventist Church and children who attended the school at the Christian Methodist Episcopal Church's Mission of Hope compound.
Volunteers assembled approximately 100 hygiene bags for the women in the community, which included feminine hygiene napkins, wash cloths, deodorant, shampoo, conditioner, body wash and lotion.
Seventh District Haiti volunteers had a joyous time assisting staff in the daily care and nurturing of children, playing games, and showing love. They also had the awesome opportunity of sharing the love and gospel of Jesus Christ with many people in the community surrounding the GoHaiti compound. Twenty (20) people gave their lives to Christ! To God be the glory