by Mary Love and Teaira Parker

[April 2018] Over two years ago, the idea of a 501(c)3 was tossed out in a Hood Seminary Children's Ministry class. That idea became a reality with the inception of Big Changes Start Small (BCSS). BCSS is actively engaged in forming partnerships to make a difference in the Dillehay Courts Community in Charlotte, NC. The main partners currently include three area churches (Greenville Memorial A. M. E. Zion Church, First Mount Calvary Baptist Church and Walls Memorial A. M. E. Zion Church) and the Salvation Army. This apartment complex has a Salvation Army Boys and Girls Club on the premises and the youth who attend make up our main target audience. In August, BCSS, our partners and others sponsored a Back-to-School summit with approximately 225 children, youth and adults in attendance. Each child was given school supplies, a book bag, books, hygiene items, and more. Classes were provided on parenting best practices, bullying and establishing children's ministries that make a difference. In addition…

Over two years ago, the idea of a 501(c)3 was tossed out in a Hood Seminary Children's Ministry class. That idea became a reality with the inception of Big Changes Start Small (BCSS). BCSS is actively engaged in forming partnerships to make a difference in the Dillehay Courts Community in Charlotte, NC. The main partners currently include three area churches (Greenville Memorial A. M. E. Zion Church, First Mount Calvary Baptist Church and Walls Memorial A. M. E. Zion Church) and the Salvation Army. This apartment complex has a Salvation Army Boys and Girls Club on the premises and the youth who attend make up our main target audience.
In August, BCSS, our partners and others sponsored a Back-to-School summit with approximately 225 children, youth and adults in attendance. Each child was given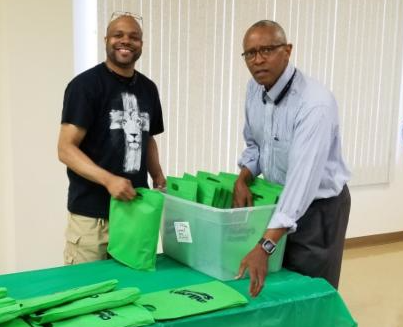 school supplies, a book bag, books, hygiene items, and more. Classes were provided on parenting best practices, bullying and establishing children's ministries that make a difference. In addition, there were classes on mental health, suicide prevention, helping children belong, and the first 2000 days. Not only were the youth positively impacted by this experience, but their parents also gained new insight on better ways to engage their youth and strategies on reducing burn-out for single parents.
Food, fun, and giveaways were also a part of this great outreach. Children played in the bounce house and explored a fire truck from the local fire department. Lunch was also provided to families. One of our student volunteers took note of joyful reactions from students and parents when given bookbags, school supplies, etc.:
"While guiding the young people off the stage when they received their school supplies, I heard many of the students and some parents express how excited they were for what they received. Parents grateful that they did not have to spend money they didn't have on items their kids needed. Students excited about the upcoming first day of school and having everything they needed to excel. The immediate impact I felt from the people in attendance was gratitude, but even more I felt the presence of God in that space." Teaira Parker, volunteer
The Children's Summit was also transformative for Teaira, a volunteer, and has given her the desire to organize and implement a Children's Summit in her community in Washington, D.C.:
"I learned ... that I should never judge a community based on its economic status. These community members did not have a lot of money. They are considered poor, but the love they showed for the church stepping in made such a huge impact on me that I felt inspired to recreate, on a smaller level, the same school supply giveaway in my own neighborhood. When I saw the people being served and the love that genuinely flowed from everyone in the building, I knew I was right where I was supposed to be. I knew that even if no one said thank you, the smiles said it all for them.
...This event made me want to do ministry better..."
Big Changes Start Small and our partners desire to be a continuing presence in the community. As a result, a Christmas festival was sponsored in December. Each child was given a gift by the Salvation Army along with various hygiene items donated by the partners. Some coats were also made available for the children. Ninety-five children were served during this event. Some members of the group continue to visit the Center to lead exercise classes and provide teaching/learning experiences for Martin L. King Jr. Day and Black History Month. Plans are in the works for several activities during 2018.
Some elements of the work with children have been duplicated in other areas. BCSS worked with two pastors (Rev. Dr. Doris Hicks and Rev. Flavian Coleman) in the Columbia area to sponsor a summit there. The goal was to raise the level of awareness regarding the needs of children and to bless the children of an elementary school in the community.