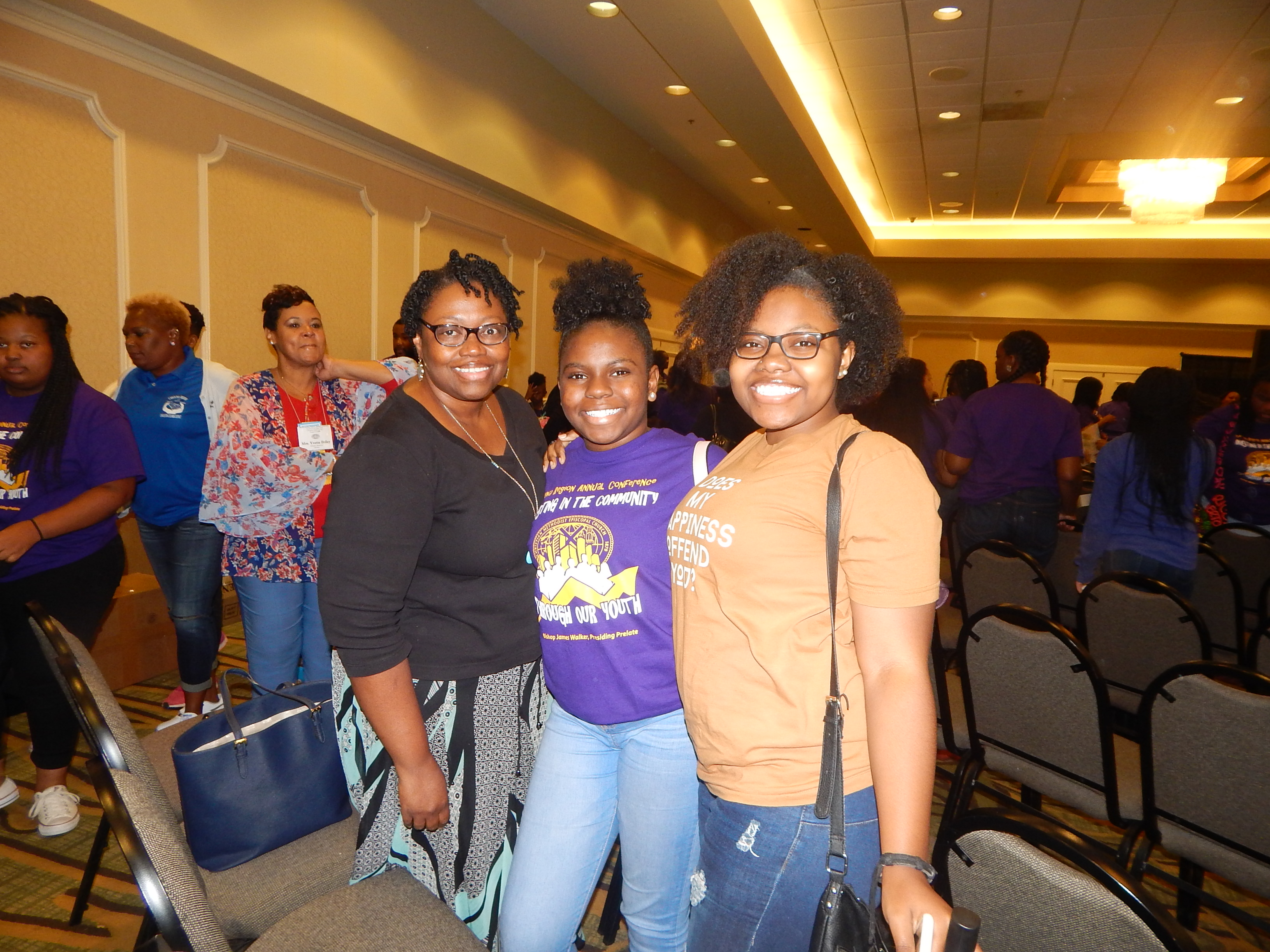 Creative life skills workshops and activities were developed for children and youth at the Carolina Region Annual Conference in Columbia. SC. Working with the theme Investing in the Community through our Youth, Dr. Debra Lowe as Director of the Board of Christian Education (BOCE), coordinated workshops and structured activities that provided educational and enriching experiences. Latosia Gibson facilitated a Communications workshop that promoted relationship building through one to one and group verbal interactions. Being able to understand and relate to each other is essential and was emphasized during the workshop. Min. Brenda Springs and LaVette McDaniel worked with children from six through 11 years of age. Youth who participated in the workshop facilitated by Jamea Grace discussed issues teens face in their daily lives. The BOCE and the Board of Evangelism donated teddy bears to children at the local battered women and children's shelter.
The Rev. Nicole Leak conducted the Write the Vision workshop where youth discussed Habakkuk 2:2 "write down your vision and make it plain on tablets . . ." She explained why it is important to have a plan to shape and realize your goals for the future. Youth learned that the vision should be clear so they know how to proceed to obtain it. They also learned that success can be delayed or blocked without having a vision of where you want to go and or see yourself in the future. Afterwards, Michael Lowe guided the group though a Vision Board activity where they used pictures from magazines to create a pictorial outline of their envisioned future.
Most of the male youth participated in a Boys to Men workshop that focused on problems faced when transitioning from boyhood, and the qualities that define a real man. Praise Him with the Dance was taught by Michael Cherry; he focused on the meaning behind liturgical dancing. Youth learned that liturgical dancing gives individuals a way to express emotions and worship publically. As a part of the workshop, youth were given a forum to discuss problems, issues and situations that they and other teens face.
The BOCE partnered with the Carolina Region Missionary Society to provide a college/career fair, coordinated by Mrs. Theresa Muldrow of the Charleston/Columbia District. Youth and children participated in daily musical workshops and performed songs learned during the BOCE program. This year, youth attended the Lay Worship service and the Ordination service. There was also recreational time that included a planned excursion to a local fun park. We are grateful to Charleston/Columbia churches who provided a hotdog lunch.
The highlight of annual conference is always BOCE Night where children and youth provide an overview of their weekly activities through original performances. The children, youth, and young adults combined to provide ministry in song. The children provided a summary of their workshop through a Bible-based skit performance. Several youth presented and explained their vision boards. Youth who attended Michael Cherry's liturgical workshops performed a powerful and moving liturgical illustration. Eleven-year old Minister Jamarion Blair delivered an inspirational message about his call to the preaching ministry. The entire conference was inspired and vowed to support him with prayers and opportunities.
Article written by Dr. Debra Lowe, Director of Children's Ministry
Submitted by Rev. Dr. Doris L. Hicks, Carolina Region Liaison, CME Church