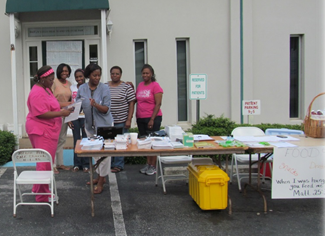 Sep 2013: To improve the life for children, the unprivileged, and persons with physical and spiritual needs in the neighborhood around the church as well as in nearby communities, the Ladies of the Cross of Melvin Hill Christian Methodist Episcopal Church Carnesville, Georgia held its first Health and Spiritual Community Fair mission outreach this summer at the office of Dr. Michelle (Morris) Patterson in Commerce, GA. The theme, Giving to God's People in Need, was the fair's primary focus. Our group believes that GIVING should be done FREELY, a belief from which our theme derived. After all, the first FREE gift came from GOD. Pictured: Ladies of the Cross L-R): Rhonda Whelchel, Raven Daniels, Dr. Michelle (Morris) Patterson, Cynthia Bailey, and Shirley Watson. Not pictured: Milton Whelchel and Katelyn Whelchel.
The Health Fair focused on health and community needs. It provided free blood pressure checks, free health/eating tips, free food, free health counseling, free clothes, and free access to Health Department resources. The Spiritual Fair provided spiritual food via the use of four dramatically decorated rooms: (1) LIFE (drugs, alcohol, money, greed etc.), (2) HELL (3-5 min video on hell and its realness), (3) HEAVEN (3-5 min video on heaven and its realness, (4) SPIRITUAL COUNSELING (free ministerial counseling was provided by Rev. Walter James Whelchel III who offered salvation counseling, prayer, words of comfort, etc.). Bro. Gary Cole provided his life's testimony for our LIFE room. All who came to serve as well as those who came to be served were tremendously blessed.
Ladies of the Cross is a women's book club that became a mission group while meeting to read The Bait of Satan: Living Free from the Deadly Trap of Offense by John Bevere. Ms. Hilda Stuckey, Elberton/Gainesville District Director of the Pan-Methodist Campaign for Children in Poverty asked the group to consider the goals of the Campaign for Children in Poverty when planning their ministries. The mission group is asking for donations such as clothes, bibles, toothbrushes, toilet paper, diapers, non-perishable items etc. to continue helping those in need physically and spiritually, and supporting the campaign for children in poverty.
Please feel free to contact Rhonda Whelchel-678-936-4712 and Dr. Michelle (Morris) Patterson-706-335-2777 for upcoming meetings, missions, and for donations. Rev. Walter James Whelchel, III, is the pastor of Melvin Hill CME Church
Submitted by Ms. Hilda Stuckey, Liaison for the Elberton/Gainesville District of the North Georgia Region, CME Church.