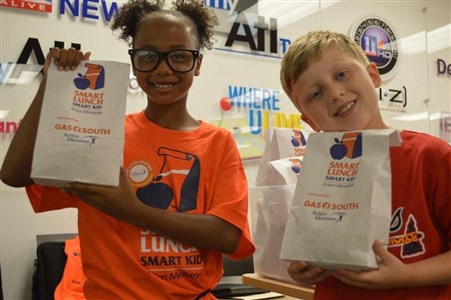 July 2015: North Georgia United Methodist Churches have been involved with aiding children in poverty on many different levels. By collaborating with schools, communities, and other congregations, Methodists provide food, shelter, guidance, and more to needy children across the region.
Action Ministries challenged the entire conference this summer to collaborate in honor of their program Smart Lunch, Smart Kid. The goal was set for 200,000 healthy lunches to distribute to needy children when the school year ended.
The end result was 219,515 lunches, completed by over 2,000 volunteers who donated 23,000 volunteer hours. The meals served an estimated amount of 24,390 individual children who are on free or reduced lunch during the school year.
"We were only able to serve that many lunches because our 200 partnering organizations and volunteers of all ages and from all walks of life chose to be Life-Changers for Georgia's kids. Because of them and their generosity, we were able to erase hunger in Georgia this summer," said John R. Moeller, Jr., president and CEO of Action Ministries.
The North Georgia Conference continued to raise awareness of child hunger by inviting Action Ministries leaders to take over Guest Blogger Week in November. It coincided with a national tv ad campaign by ReThink church, highlighting the United Methodist Church's ongoing efforts to "create a world free from hunger."
Mount Pisgah UMC of Johns Creek formed a relationship, with the guidance of their Local Outreach Director, Francella Perryman, with their local school, Hillside Elementary. Perryman was influenced by the work of several Mount Pisgah members on the school's PTA, but she saw room for growth and connection. With the support and assistance of Hillside principal, Dr. Otway, Mt. Pisgah has provided handy services for both children and parents for the past two years. Mt. Pisgah Tutoring provides academic assistance during lunch, and PisgahKids is a mentoring program that encourages full family involvement both during and outside of school. The church also provides bus transportation for parents to travel to evening meetings and conferences. This is especially helpful for families without a car.
Mt. Pisgah's after school involvement includes a Soccer Clinic, led by their Christian School Girls Soccer Team, as well as Christmas assistance for low income families. Parents may choose to take their children to a Christmas party, where they receive gifts, cookies and punch, and a chance to hear the true story of Christmas. The church has also hosted a Back to School Party with burgers, bouncy houses, and free back packs.
Perryman says, "Mount Pisgah strives to be a launching pad to service and is focused on spreading the good news to 'Love God, Love People.'"
In March, UMCs of the Atlanta-Marietta District joined together to spread the good news to an inspiring family in need of a home.
The Khup family received a home from Habitat for Humanity- North Central Georgia, built by the ecumenical collaboration of Canton FUMC, Hickory Flat UMC, Hillside UMC, Mount Zion UMC, the North Georgia United Methodist Housing and Homeless Council, Saint Clement's Episcopal Church, Temple Beth Tikvhand, and Windsong Properties.
Wife, Esther, along with her children were forced to flee Burma after her husband, Sial was arrested for preaching the gospel. The mother and children immigrated to the states after living in a refugee camp in Malaysia. Sial returned to his family five years later, living in a tattered apartment. Now, the Khup family live in a new habitat home in Canton, GA.
"When I saw all the different people that I don't know building our new home, I thought why are they doing this. What can I do for them," Sial said while accepting the keys to his new family abode. "The one thought that was clear to me was that you were showing God's love by helping us. I heard this like God had told me this."
In the town of College Park a group of United Methodist Churches rallied together to provide better opportunities for their children and youth, including the chance to take a trip to the 2014 Annual Conference in 2014.
Rev. Robert Crawford of Redemption Community UMC brought his idea for the trip to the dependable Emma Dudley, a very active member at Laster's Chapel UMC. She responded with a determined "let's do it."
With the help of Rori Blakeny, a representative of the Young Peoples Ministries of the General Board of Discipleship and member of East Point First Mallalieu UMC, a lunch of pizza was provided to the young Annual Conference visitors at Athens First UMC as well as free t-shirts.
Many of College Park's small UMCs struggle to organize events for young people due to their size. Filling a bus with kids from Laster's Chapel UMC, Redemption UMC, Poplar Springs UMC, and St. Mark UMC of Fairburn opened a door for future collaborations.
"We tend to feel like we are not a part of the big church, but we are!" Rev. Crawford explains enthusiastically. "We have to make that happen."
They have since made it happen by coming together in the College Park Auditorium for a day of food, music, and children sharing their talents and passions through dancing, singing, and more.
Dudley and her new connectional team continue to invent new ways to maintain their relationships and strengthen the district. The congregations hope to see familiar faces from Annual Conference at future events.
"They invited us to Annual Conference, so we want to invite them here," says Dudley.
Whether it's one church, one district, or the conference as a whole, the United Methodist Churches of North Georgia strive to bring awareness and relief to children in poverty. As represented by their 2014 Annual Conference theme "Together We Make Disciples: Children, Youth, Young Adults, Camps, and Campuses," the North Georgia Conference recognizes the importance of strengthening and supporting the needs of young people.
(Article by Ansley Brackin, NGUMC Communications Specialist; Rev. Debby Fox is the NGUMC Associate Director for Children's Ministries, and also the Liaison to the Pan-Methodist Campaign for Children in Poverty)